Due to the current situation, Bubbles is regretfully closed. We look forward to reopening when things are back to normal. Best wishes to all and take care of yourselves.
Qualified staff
Creative activities
Outside play
Nutricious snacks
Theme nights
Accept childcare vouchers
Ofsted rated GOOD!
Friendly and welcoming
..."I love coming to Bubbles. We have a good time playing and doing things."
..."this place is really nice. Breakfast is lovely, you can have as much as you want and at night you get to play with mint stuff. The staff are very kind, supporting and very nice people."
..."a fun and stimulating environment for the children and the staff are very helpful"
Making Breakfast at Bubbles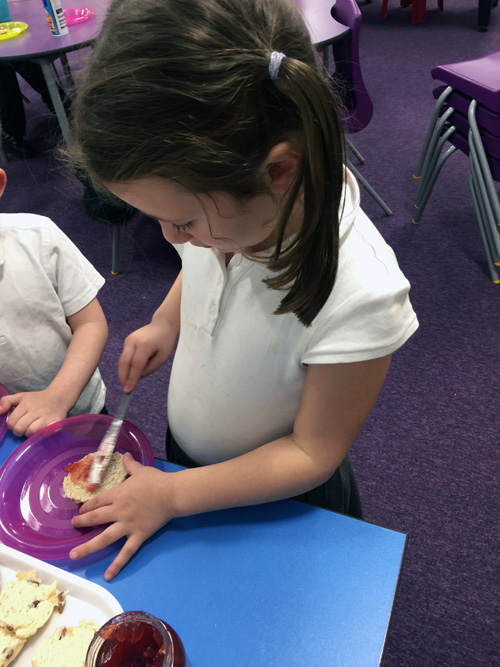 Radcliffe, Bury - Bubbles Before and After School Club
Bubbles is a privately run before and after school club situated at Wesley Methodist Primary School in Radcliffe, Bury.
The club operates within the Wesley Methodist Primary School building in Radcliffe. Secure outdoor play areas are also used. In 2016 Bubbles celebrated its 10th birthday which was covered by the Bury Times.
Bubbles Before and After School Club aims to provide a service to working parents in giving quality care for children at either end of the school day. Structured and informal activities are offered to children between three and eleven years old. It is regulated by Ofsted who periodically check and report on the quality and performance. We are pleased that in 2016 Ofsted rated Bubbles as Good in their latest inspection (download the full report as a pdf).
Before and after school clubs are also known as out of school clubs, out of school care or out of school provision..

Who Can Go to Bubbles?
Children can attend Bubbles from the age of three until they leave primary school. Most children at Bubbles attend Wesley Methodist Primary School in Radcliffe and arrangements are in place for staff to deliver and collect children at the beginning and the end of the school day.
Children attending another school are very welcome to come to Bubbles but you would need to make your own arrangements for their transfers to and from their primary school.
Fees at Bubbles
The fees are for all activities; morning sessions also include a healthy breakfast and afternoon sessions include a healthy tea.
2019-2020 Academic Year Prices and Times
Morning session (7.30-9.00 a.m.) £7.50
Short afternoon session (3.30-4.30 p.m.) £7.50
Full afternoon session (3.30-6.00 p.m.) £11.50
Please contact us to check availability or for more information..
Opening Hours
7.30 a.m. to start of school and end of school to 6 p.m. Term times of the Before and After School Club match those of Wesley Methodist Primary School.
Out Walking Photo